P.Rev.
(a) 33 x 1341 (b) fragments of a second roll, originally approx. 4.5 m wide
Revenue Laws of Ptolemy Philadelphus
(259-258 BC)
Written by a number of scribes. The main text is on the recto with only two notes in cols. 41 and 43 which are written on the verso but referred to in the main text. The total number of columns preserved on the main roll as well as several fragments is approximately 107. The text concerns itself with the taxation upon vineyards and orchards as well as the revenue from the oil monopoly. Cols. 1-22 contained the regulations governing the relations of government officials in each district with the revenue farmers. Cols. 23-37 contained the orders about the share of 1/6 of all vineyards and orchards in Egypt payable to the cult of Arsinoe Philadelphus (apomoira). Most of the rest of the document is concerned exclusively with the monopoly in oil. The whole document has undergone corrections and additions.
Recto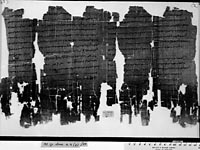 72 dpi image (b/w)
150 dpi image (b/w)
300 dpi image (b/w)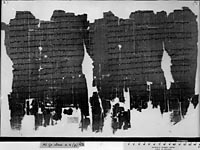 72 dpi image (b/w)
150 dpi image (b/w)
300 dpi image (b/w)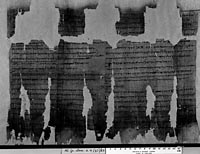 72 dpi image (b/w)
150 dpi image (b/w)
300 dpi image (b/w)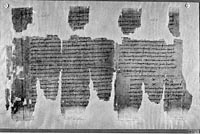 72 dpi image (b/w)
150 dpi image (b/w)
300 dpi image (b/w)

Verso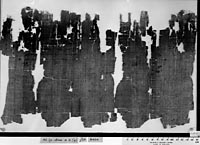 72 dpi image (b/w)
150 dpi image (b/w)
300 dpi image (b/w)



72 dpi image (b/w)
150 dpi image (b/w)
300 dpi image (b/w)